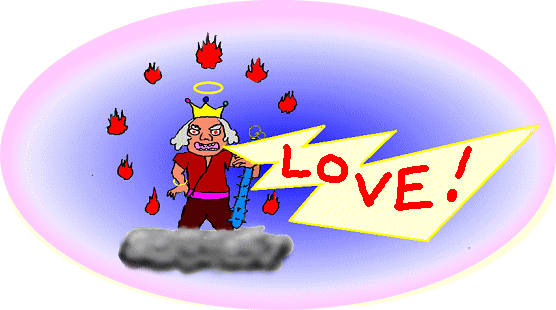 Omnibus picture book 'Don't force Love' contains 3 picture books, which have similar stories in different situations.


Some of the contents may be disturbing. We recommend parental guidance for minors.
Omnibus picture book 'Don't force Love'

The theme is about a child abuse.

The theme is about a sexual harassment.

The theme is about a war of aggression.
Some comments on the omnibus picture book, " Don't force love!"
'Love' cannot be simply/directly created by threats or orders.
However the illusion/misunderstanding of "Love is made by commands, threats, fear and/or violence" spreads over the world.
The writer thinks that this misinterpretation is organically combined with the illusion of good and evil and distorts people's minds, causing various tragedies.
The misunderstanding 'Love is created by orders' may also cause lies. Lies destroy 'trust' that is the base of human relationship. Our picture book 'Love and Lies' illustrates the psychology.
The themes of 3 picture books in this omnibus picture book are as follows respectively. Please note that each tragedy has been caused by the same misunderstanding, that is, 'love can be forced'.

・Love Thy Child; child abuse
・Love Thy Partner; sexual harassment
・Love Other Nations; war of aggression

Though this omnibus picture book has only picked up the above 3 tragedies, the misunderstanding could cause much more troubles.
Love is the very base of human relationship. I repeat. Love is the base of human relationship.
The confusion of love that is the foundation of people's bonds would distort almost all kinds of human relationships.
Please imagine how much of tears and bloods of human beings have been wasted because of this confusion about love.
In order to heal the distorted relationships of human beings and prevent further tragedies, it is extremely important to remove the misunderstanding of love.
However do you think how many people on the earth are aware of the misunderstanding and its risk now?
If you empathize with the picture book, it is most appreciated if you could do whatever you can to spread the awareness of this confusion about love to the world.



N.B 'Love Your Neighbors' / 'Love Your Enemies'
This omnibus picture book is not about the teachings of 'Love your neighbors' or 'Love your enemies' in Christianity (The Holy bible).
| | |
| --- | --- |
| Please give us your thoughts on these picture books. | |

Don't force Love in Japanese (オムニバス絵本「愛を命令しないで」)