A donation - for those who empathise with our vision - Wa for The Earth. Together we can make a difference.
If only we could heal people's minds ... if only we could achieve Wa (peace, love, harmony, happiness)...
For those who empathise with such a vision, we ask of you to contribute a small donation to make this dream become reality.
For those who kindly donate US$12 or more, we will send you the printed version of Magical Glasses as a thank-you gift.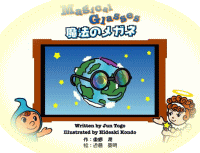 The printed version of Magical Glasses was published on 16th February 2006. We will be shipping them from Japan to our office in Australia so we are expecting them to be available to be distributed from sometime in April. (*We cannot guarantee when we'll be able to send them for the time being.)

The printed version of Magical Glasses is not for sale. You cannot purchase them at bookshops.

We will send a copy per every $12.00 with a limit of 10 copies in total, unless otherwise asked by you. (E.g. donation of $12 = 1 copy; $50 = 4 copies; $100 = 8 copies; $1,000 = 10 copies)

While we send copies of this picture book as thank-you gifts, we send them to people all over the world as a peace message book for free. The donation will go towards the expenses of this Peace Picture books movement, including the cost of free distribution.

Please let us know your postal address, and if you would like a certain number of copies other than the above, please let us know.

Once you have thoroughly enjoyed the picture books, it is most appreciated that you present it to someone else as a gift, enabling the books to travel all over the world.

Please contact may04

j15.org (N.B @ is an image)
Please remit to the following bank account.
Beneficiary Bank; THE BANK OF TOKYO-MITSUBISHI UFJ, LTD.
SWIFT code; BOTKJPJT
Branch Name; Shinjuku-Chuo Branch
Branch address; 1-8-1 Nishi-Shinjuku, Shinjukuku, Tokyo, Japan 160-0023
Beneficiary Account Number; 469-5523772
Account type; Savings
Beneficiary Name; Wao Chikyuhe
Wa for The Earth - together we can make a difference!

Donators who contributed for the production of Magical Glasses